News

(also see the Gallery for pictures/video/audio)




Pictures from ~120k ft
Posted by: @ 09:50am on November 27th

STC supporters recently recovered a payload from a July 2004 rocket launch. The camera and electronics were still in good shape.

See the STC "gallery" page.

It was an early morning flight, so the view is to the ESE over the Olympic Peninsula.

EM



---

STC Featured in FAA publication
Posted by: @ 11:14am on May 9th

STC is featured in the February 2005 publication entitled, "Suborbital Reusable Launch Vehicles and Emerging Markets" written by the Office of Commercial Space Transportation.

click here for .pdf



---

Seattle PI article, Nov. 22, 2004
Posted by: @ 11:10am on November 22nd

A Nov. 22 Seattle Post-Intelligencer article, "The rocket boys of Forks", paints a rich picture of personality of STC and the "rocket boys", and the amazing Forks community in which the adventurous program is taking place.






---

R2 status
Posted by: @ 11:07am on November 22nd

The Rubicon 2 has been delayed for various reasons including focusing on raising funds to continue the project after R2 and also conducting additional inexpensive space flight testing with the small Spartan rocket.




---

STC congratulates Rutan/Allen/X Prize winners, 10-4-04
Posted by: @ 12:23pm on October 5th

STC hails the victors of the X PRIZE and focuses on the bright future.

For the full press release, click here for Word document or here for a rich text file




---

R2 progress, etc.
Posted by: @ 07:25pm on September 20th

Click here for an update including:
- Rubicon 2 construction progress
- September 12th solid rocket motor test (successful!)



---

Stevie Austin Project
Posted by: @ 01:36pm on August 31st

The ebay buyer of the mannequin, James Elliot, head has set up a remarkable "Rubicon ICU/Rehab Facility" to make "Stevie Austin" better, stronger, and faster for the next Rubicon launch.

Click here to see the hilarious recreation of the Rubicon 1 flight with Stevie on board.

Click this link to go to the Stevie Austin Project home page:




---

Environmentally sound Rubicon
Posted by: @ 09:02am on August 31st

To read about how the Rubicon is an environmentally sound project with tremendous potential benefits for the U.S. and the world,

click here



---

Spacefleet investment
Posted by: @ 09:01am on August 31st

To read about the Spacefleet investment that funds the Rubicon 2 construction and launch,

click here



---

Rubicon 1 August 8, 2004 Launch Results
Posted by: @ 03:53pm on August 9th

For results of the Rubicon 1 launch,

click here for .pdf
or
click here for an MS Word file.



---

July 28th Seattle Post-Intelligencer article excerpts
Posted by: @ 09:11am on August 5th

Excerpts from "Countdown to X Prize flights begins", a recent article from the Seattle PI by reporter Tom Paulson:

"The rocket scientists of the Olympic Peninsula seldom get much attention as X Prize competitors."

" 'We're not funded by a billionaire, but I still think we have what it takes,' Storm said. 'Our plan is still to launch soon and beat Burt' "

For the full article, click .



---

56,000-foot two-stage flight success
Posted by: @ 02:36pm on July 5th

On July 4th, Space Transport Corporation launched a two-stage rocket to 56,000 feet (17 kilometers) and recovered the payload and pictures.

A three-stage launch to 60 kilometers is coming up, probably before the Rubicon flight later this month.

Click below for our press release and photos from aboard the rocket (pics can also be seen/downloaded in the website "gallery").

Click here to read more



---

STC Comments on SS1 Flight, etc.
Posted by: @ 11:29am on June 23rd

On Fatherís Day weekend, Space Transport Corporation displayed their space tourism vehicle in Seattle at The Museum of Flight. The event provided wonderful exposure of STC's space program.

Click here to read more about the Rubicon exhibit and to read STC's interpretation of the Allen/Rutan's SS1 flight.



---

Encouraging meeting with X Prize competition, 4/17/04
Posted by: @ 10:32pm on April 26th

STC met with all active X Prize teams in Los Angeles the weekend of April 17th.

All teams presented their project status. STC's Rubicon Suborbital Tourism Vehicle project is outstanding among its competitors.

Also see the "gallery" page of this website for a picture of STC's recently-finished mobile launch trailer.

Read More



---

Successful 12-inch engine test, 3/28/04
Posted by: @ 12:20pm on March 31st

See the "Gallery" page of our website to view the video and pictures of the test.

STC successfully tests their 12-inch engine, the workhorse for the Suborbital Tourism Vehicle (STC's X PRIZE vehicle).

Click here to view the press release



---

Peninsula Daily News article by Jeff Chew, "Rocketeers show capsule", 12/18/03
Posted by: @ 04:23pm on January 3rd

Click here to view the article



---

Spacecraft Display, 12/17/03
Posted by: @ 01:09pm on December 17th

"The Rubicon", STC's Suborbital Tourism Vehicle, will be on display today in Port Angeles at the Vern Burton Center. Many thanks to those that made this display happen including the Clallam County EDC, Casey and crew with Rigby's Auto Body, and Sandy and crew with Cutting Edge Vinyl.

We are proud to show our work on this anniversary of the ground-breaking aircraft flight by the Wright Brothers back in 1903. STC hopes to bring monumental change to space flight as Orville and Wilbur brought to air flight.



---

Peninsula Daily News article by Jeff Chew, "Space flights in their sights", 12/1/03
Posted by: @ 10:42am on December 2nd

Click here to view the article



---

SM Rocketry launches 3-stage to 72-km on 11/6/03
Posted by: @ 03:26pm on November 8th

SM Rocketry successfully launched a 3-stage rocket to 72-km altitude on 11/6/03. This rocket was designed to prove out the launch rail system, stage separation, and flight stability. The GPS based Flight Safety System kept the rocket on a direct path out to sea, where the upper stage landed 75-km off the Washington State coastline.

Future launches to 100-km altitude are imminent and include digital high resolution photography from the rocket, and other telemetry devices such as thermocouple vacuum pressure transmitter readings at altitude.

The attached picture shows the first stage smoke trail on the right, the 2nd stage trail has been swirled around by winds and is seen in the middle of the picture, and the 3rd stage trail is on the lower left seen as a streak heading in a westerly direction out to the Pacific.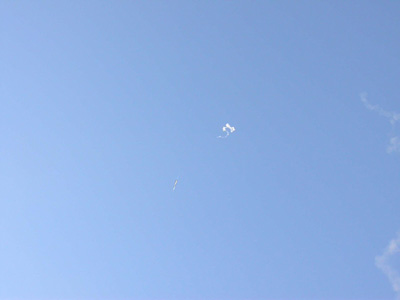 ---

Peninsula Daily News article by Jim Walker, "Eyes on the Sky", August 13, 2003
Posted by: @ 12:27pm on October 28th

Click here to view the article



---

Peninsula Daily News article by Jeff Chew, "Eyes to the Skies", May 25, 2003
Posted by: @ 12:18pm on October 28th

Click here to view the article



---